Welcome to the YAPC::Europe 2003 website!
Wednesday, July 23, 2003 - Friday, July 25, 2003
CNAM Conservatory, Paris, France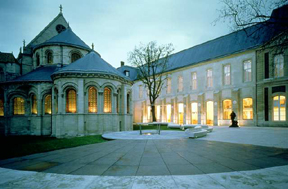 Breaking news
March 7, 2006: The whole YAPC::Europe 2003 web site has been successfully ported to the Act engine.
July 24, 2003: The conference is now over. Thank you everyone for coming!
YAPC is "yet another Perl conference", with apologies to The Perl Conference. This is an inexpensive (€99 for 3 days) conference with its roots in the Perl Mongers Perl users groups. YAPC is driven from the bottom up, organized by and for Perl users -- a grassroots conference.
YAPC began as a smaller, regional version of TPC in the Eastern USA, hosted by Carnegie Mellon University, and has become a series of conferences held in multiple areas of the globe, all aimed at bringing together the Perl community in an accessible manner.
Last year, YAPC Europe took place in Munich, Germany while YAPC America was held in St. Louis, Missouri, USA.
YAPC::EU is the last YAPC of this year!
YAPC Europe will be held in the majestic Conservatoire National des Arts et Métiers (CNAM) in Paris, France, hosted by the Paris Perl Mongers.
YAPC America was held in Boca Raton, Florida, USA
YAPC Canada was held in Ottawa, Canada, and last but not least,
YAPC Israel was held in Haifa, Israel.
---
Template index.html last modified at 01:59:25 03-Apr-2007
All content copyright © 2003 Yet Another Society, Inc.
for any question about this site or YAPC::EU 2003, mail to <
yapc-help@mongueurs.net
>.
XHTML
and
CSS
validation.