Accommodation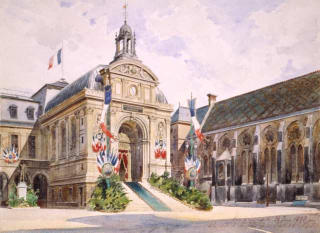 Help available for group accomodation
If you are coming as group of at least 10 people and don't want to go through the hassle of calling an hotel, and actually speaking French to the manager, you can contact us at (give us as many details as possible about your query: number, what kind of price...): yapc-accomodation@mongueurs.net. It's not a booking service but, if only you give us enough time (at least one month prior to the conference), we will try and find a hotel to host your group, warn the manager of your incoming call. The final booking will be left to you.
If you are not part of a 10-people group, but don't feel like being aside from the other attendees or alone in an hotel room, you can also send us an email at the same address, telling us you would be pleased to share a room with somebody or be in an hotel with an other small group. As soon as we got at least ten people, we will proceed as mentioned above.
Hotels
There are a large number of hotel rooms available in Paris, even in the high season. We do not expect you to have much trouble in finding a hotel room near the conference venue, very conveniently and centrally located in Paris 3ème arrondissement (Paris 3rd). The main issue for you will be to book your hotel room early enough.
The following web sites can help you book an hotel from home:
Youth hostels
Youth hostels ("auberges de jeunesse" in French) represent cheaper alternatives to hotels. There are four hostels in Paris providing 100, 180, 350 or 450 beds at a price of about 20 EUR. None of them is in Paris 3rd, but all are in Paris itself and are therefore easily accessible by subway.
List of youth hostels in Paris
The following web sites can help you book a youth hostel from home:
Subway
And remember that the Paris metro is a cheap (9.6 EUR for 10 tickets) and quick way to move around the city. You can of course buy 3-day Passes for the conference duration.
---
Template accommodations.html last modified at 01:59:25 03-Apr-2007
All content copyright © 2003 Yet Another Society, Inc.
for any question about this site or YAPC::EU 2003, mail to <
yapc-help@mongueurs.net
>.
XHTML
and
CSS
validation.